Meng Mo (梦魔 Mèng Mó) is a dream demon who taught Luo Binghe about the power to control the dreaming world. Several hundred years ago he was a brilliant, famous, and outstanding elder among demons before divine punishment destroyed his physical body. However, his powerful spirit was completely undamaged, and from then on he became a parasite within others' dream realms, subsisting by absorbing their spiritual energy and vitality.
Appearance
Personality
Synopsis
Proud Immortal Demon Way
Scum Villain's Self Saving System
Relationships
Abilities & Equipment
Nightmare Dream Realm: Meng Mo specializes in summoning the human heart's deepest terror, rage, and misery to destroy people's psychological defenses. The more agitated the trapped person becomes, the more danger they are in. Illusory people form from the victim's own mind and consciousness, so attacking them means attacking the victim's own brain. Attacking too much causes the victim to fall into a coma. The only way to dispel the nightmare is for the victims to undo the complexes in their heart, which would cause the nightmare to collapse on itself. [1]
Trivia
Appearances
Novel
Donghua
Gallery
Novel
Donghua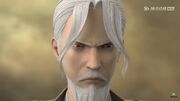 References