Old Palace Master

Characteristics

Name
老宫主 Lǎo Gōngzhǔ
Name meaning
老 Lǎo - Old

宫主 Gōngzhǔ - Palace Lord/Master

Alias
Lao Gongzhu
Status

Dead

Occupation
Huan Hua Palace Sect Master
Affiliations
Huan Hua Palace
Gender
Male
Race
Human
Relatives
Little Palace Mistress (daughter)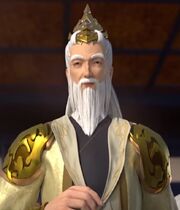 Old Palace Master (老宫主 Lǎo Gōngzhǔ) is a minor villain in Scum Villain's Self Saving System. He is the head of Huan Hua Palace sect. His name, as we know it, is simply his title; his birth name is unknown.
Appearance
Personality
Synopsis
Proud Immortal Demon Way
Scum Villain's Self Saving System
Relationships
Abilities & Equipment
Trivia
Appearances
Novel
Donghua
Gallery
Novel
Donghua
References